RIMOWA enters the metaverse with phygital RTFKT luggage
Read Time:
3 Minute, 31 Second
physical craft enters the digital realm
RIMOWA has long advanced its innovations through cross-disciplinary collaborations — now the luxury luggage brand is crossing into the metaverse in partnership with NIKE-owned digital fashion brand RTFKT. The group, pronounced 'artifact,' celebrates the collaboration as its first with an LVMH brand since the acquisition by NIKE this past December. The result combines physical craft and digital art. Two creations, a physical suitcase and an NFT, are born of a gamified RIMOWA x RTFKT universe, complete with its own lore and characters.
On October 27th, 2022, the limited edition Original Cabin suitcase will launch, with only 888 pieces produced. As the team notes, this number is often associated with luck in the cryptoverse. The luggage piece will be available in both physical and digital form. A collection of 2,222 'WorkerBot' NFTs will be released as part of the collaboration.

RTFKT x RIMOWA 'Meta Artisan' Original Cabin Luggage
a new virtual universe by rimowa and rtfkt
The new virtual universe by RIMOWA and RTFKT tells the story of a space station workshop whose 'WorkerBots' are infected with a virus. The world — whose story can be explored in full on the team's website — blends the metaverse visions of the virtual brand with the luggage designers' heritage and craftsmanship.
The release will come with a challenge, as the digital platform often invites its community to participate in a quest to unlock access to drops and items. This time, an interactive campaign calls the community to solve challenges together to uncover a hacked RIMOWA x RTFKT Space Station. This virtual space station muse be reactivated in order to mint the limited edition NFTs.
Following the challenge, NFT holders will be able to forge their asset to redeem a physical version of the luggage at an exclusive digital event. The 'Meta Artisan' Original Cabin piece will be available for purchase at 2.3 ETH ($3,081 USD at the time of writing), while the WorkerBot NFT will be available for 0.08 ETH ($107 USD).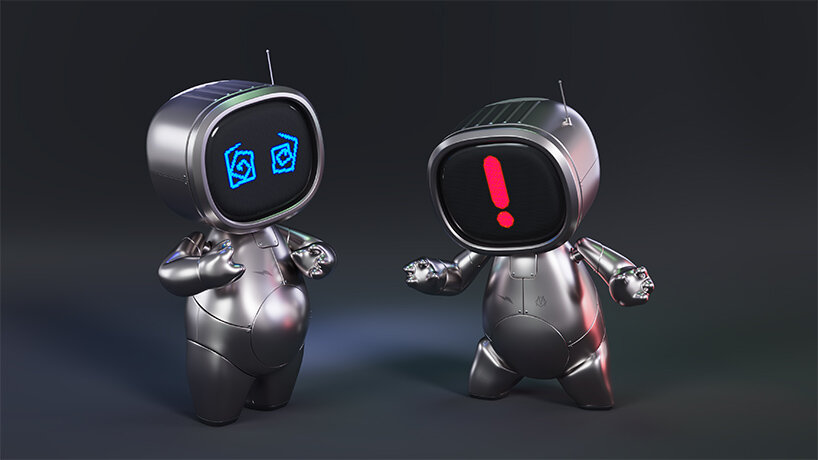 RTFKT x RIMOWA WorkerBots, 'the perfect avatar to start exploring the metaverse'
the 'meta artisan' original cabin luggage
The RTFKT x RIMOWA 'Meta Artisan' Original Cabin luggage will take shape with the classic aluminum shell, this time covered in pixelated motifs. Among this 'Wandersmith' Anti-FUD pattern print, iterations of the duo's iconography can be deciphered. The design draws from the element of anonymity and pseudonymity which defines much of the digital realm, especially within the metaverse.
'Pushing boundaries isn't something we shy away from at RIMOWA,' Emelie de Vitis, CMO RIMOWA tells designboom, 'so we were very excited to work on this collaboration with RTFKT and create something new that can live both in the metaverse and the physical world. It's an opportunity to showcase our German craftsmanship in a new way and truly engage with the Web3 community.'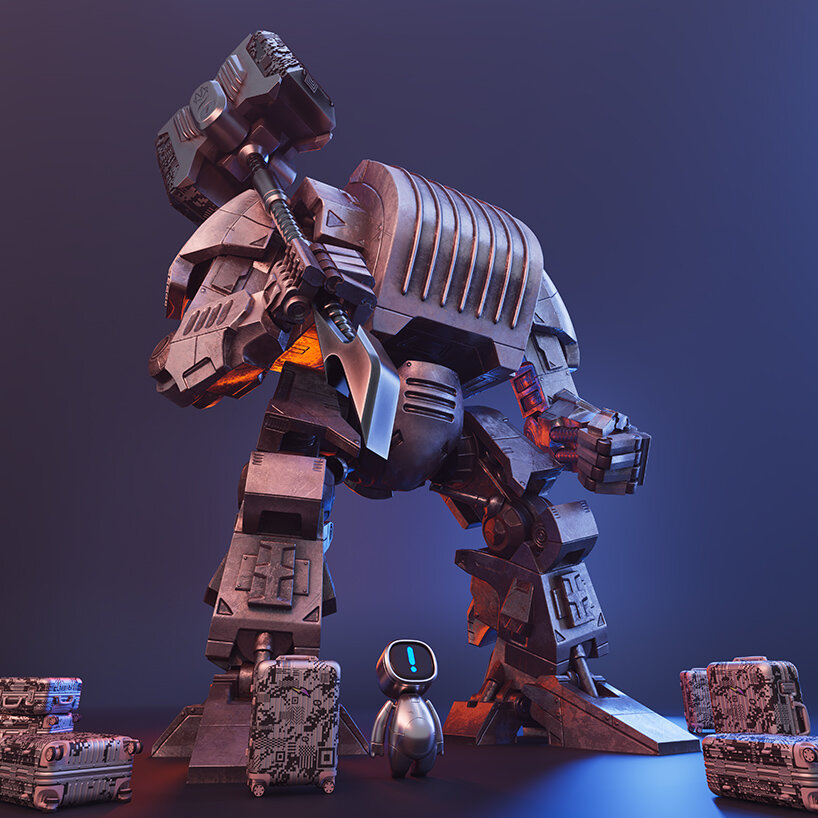 Wandersmith, an 'Artisan Mech' who creates empowering gear in the RTFKT x RIMOWA Space Station Workshop
Benoit Pagotto, co-founder RTFKT, continues: 'Working with such an iconic brand like RIMOWA and bringing them into our world has been an amazing experience. Traveling is usually restricted to real world destinations, but within the Metaverse, it's limitless. You can explore many worlds and create unique stories, and brands can interact with their audience in completely new ways.
'I believe that what we're creating together with RIMOWA in term of design, storytelling, experience and minting mechanic will become a benchmark for all brands willing to take the Web3 community seriously.
'Also, this physical luggage is amazing, paying homage to our love for cyberpunk, anonymity and our Lore Story, if you see someone with it, you'll know it's someone who's a part of the future.'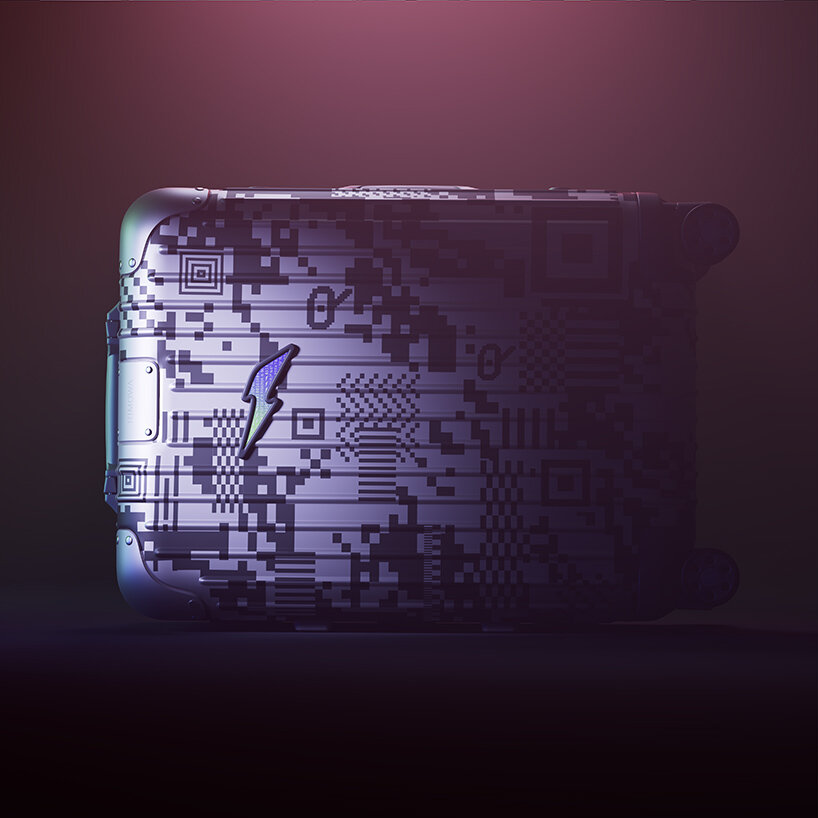 pixelated 'Wandersmith Anti-FUD pattern print' wraps the Original Cabin with the limited edition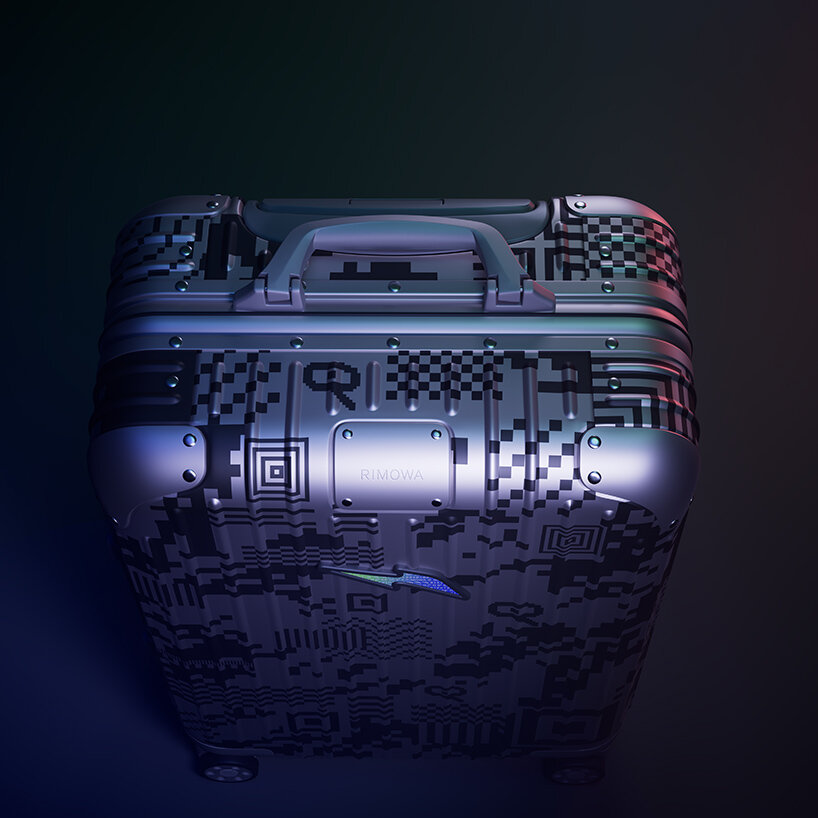 only 888 iterations of the 'Meta Artisan' piece will launch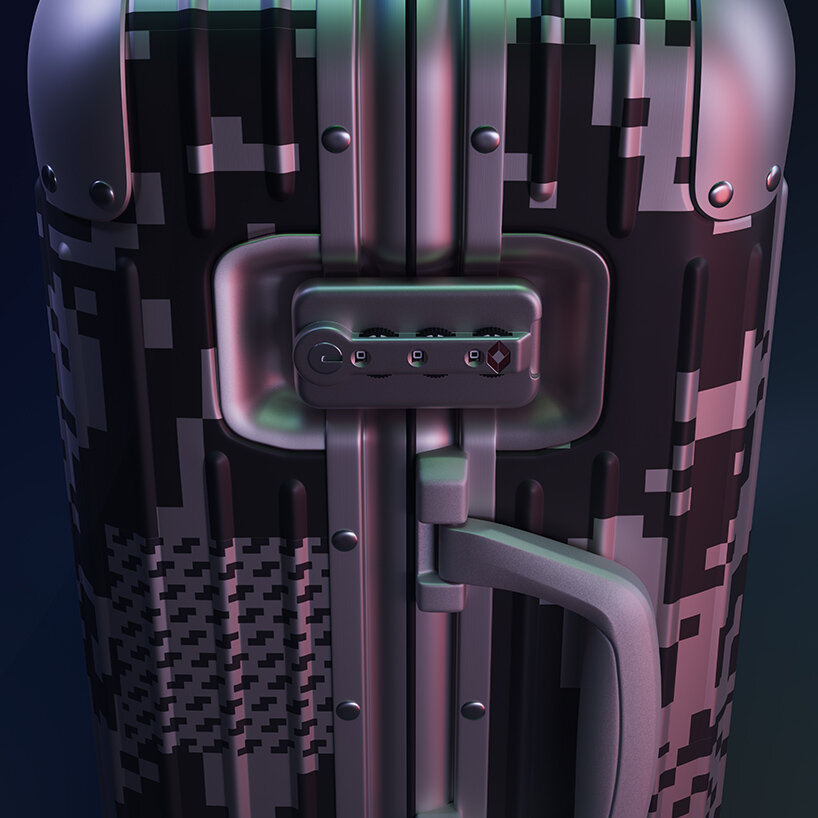 the piece is made from high-end anodized aluminum, engineered with longevity in mind
project info:
project title: RIMOWA x RTFKT collaboration
luggage designer: RIMOWA
digital fashion brand: RTFKT
launch date: October 27th, 2022
luggage price: 2.3 ETH ($3,081 USD)
WorkerBot NFT price: 0.08 ETH ($107 USD)
Source article at news.google.com